What is IRS form 8849?
If you sell a vehicle after you have filed your Form 2290 Return, you would need to file Form 8849, Schedule 6 in order to claim your credit. You would also use Form 8849 if your vehicle was stolen, destroyed or for any vehicle on which the tax was paid on Form 2290 if the vehicle was used 5,000 miles or less on public highways (7,500 or less for agricultural vehicles) during the tax period (July 1–June 30).
Generally, you can claim for Refund of Excise Taxes using the Form 8849 and using the appropriate schedules as below:
Schedule 1:

Nontaxable Use of Fuels

Schedule 2:

Sales by Registered Ultimate Vendors

Schedule 3:

Certain Fuel Mixtures and the Alternative Fuel Credit

Schedule 5:

Section 4081(e) Claims

Schedule 6:

Other Claims including the credit claim from Form 2290

Schedule 8:

Registered Credit Card Issuers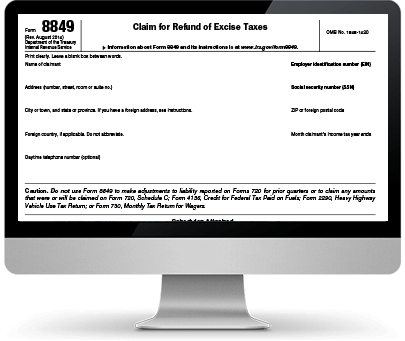 Form 8849 Facts
You can e-file Form 8849 with most IRS authorized e-file providers
Use Schedules 1, 2, 3, 5, and 8 to claim certain fuel related refunds such as nontaxable uses (or sales) of fuels.
You are not required to claim a refund; however, if you do so you must provide all the information requested on Form 8849 in order for your refund to be processed properly.
If a claim was not made for any gallons during the income tax year on Form 8849, an annual claim may be made. Generally, an annual claim is made on Form 4136.
How the form 8849 works?
With Express8849, filing your Form 8849 is quick and easy. Just create an account or log in if you already have an account and choose the option Form 8849 and follow the steps. We can automatically generate a Form 8849 or even apply for a credit directly to any taxes due during the current tax period when using Express8849.com.
We've made this process as easy as it can be for you. Here's how it works:
Gather your information
For filing your Heavy Vehicle Use Tax, you'll need the name and address of your business as well as your Tax ID/EIN. Bring the VIN for each vehicle you plan to file for. If you've got a lot to enter, there's no need to input vehicles one at a time. Upload them in bulk using an Excel spreadsheet
Sign in and follow the instructions
We'll walk you through the process and keep the tax jargon to a minimum. We support filing for taxable vehicles, suspended vehicles and more. We also support all the IRS allowed credits--we can even help you quickly fill out Form 8849, so you can get the money you're owed faster. When you're done filling out the forms you have selected, we'll do a quick audit and check for mistakes, that way you're less likely to get rejected.
Select your package, then send forms to the IRS
We've got flexible pricing options that suit everyone; from the one-truck small businesses to the national corporations with thousands of vehicles. After you pay for our services, we'll handle the IRS part and get you a response from them as soon as possible.
Schedule 1 in sixty seconds (give or take)
You'll most likely receive your Schedule 1 within minutes. The delays may be due to high volume, which normally happens at the end of the month. We will notify you by email or by text message as soon as the IRS sends the Schedule 1 form.
Why E-file IRS form 8849?
E-filing is growing in popularity--millions of people do it every year --and there are some good reasons for that.
It's green
Filing electronically takes the paper, envelopes, and stamps out of tax filing. If you bank online, pay your bills online, and shop online, why not do your taxes online too? It saves the environment and saves you from a trip to the post office or to the IRS field office.
It's safe
Not only do we have the safest and strongest network available, but you also don't have to worry about your important files being lost in the mail. Your information isn't shared with anyone, it goes straight to the IRS.
It's fast and easy
You can file your HVUT tax in minutes, without ever leaving your house or office or truck. Once you've sent it off, it takes few minutes to get your Schedule 1, and you can keep rolling.
The IRS prefers it
Seriously, go to their website, they're all about e-filing. It's faster, safer and easier. In fact, if you're filing more than 25 vehicles, the IRS says you have to e-file. With the paper forms, it takes weeks to get your Schedule 1, but with e-filing, the entire process takes less than 15 minutes. In many cases, the IRS will send you the Schedule 1 in less than an hour. Try getting that kind of feedback through the mail.
Tax Professionals
We support tax professionals and offer deep discounts.
Payless
Why pay thousands of dollars for a program that over-complicates the process? Tax preparers can file HVUT taxes for their clients at a discounted price with Express Excise, and pass those savings on to their clients.
Stay organized
There's no need to register a new account for every client. Tax professionals can manage multiple clients under one account. Our unique dashboard enables you to quickly and easily check the status on dozens of different returns in seconds.
File fast
After the information for each client is entered, it stays with the account, so tax professionals can come back and resubmit forms, or file new HVUT taxes for clients again.
Quick Fixes
Our form diagnosis can help tax professionals spot errors and clear them up before sending. If rejected, we can suggest fixes, and our customer support experts can help out. All without worrying clients.
Tax professionals get all these features and more when they use ExpressExcise, all for a low price.
Quick Links
The following links provide information and technical guidance for the Form 8849 for Tax Year 2014.
IRS Forms and Instructions (PDF)