Auto-Generating Form 8849
When you e-file Form 2290, the Heavy Vehicle Use Tax if the credit vehicle amount is more than the HVUT tax you owe Form 8849 will be automatically generated. This way you can get your money back from the IRS as soon as possible.

How to Get My Form 2290 Refund?
Once your 2290 tax form is processed the IRS will then mail you a check for the full refund amount. You should expect your 2290 refund within 4-6 weeks of approval.
We Support Tax Professionals
Claim multiple Form 2290 refunds online with Express8849
Take advantage of our discounts for tax professionals
Get faster feedback from the IRS for your clients
Receive automated email and text notifications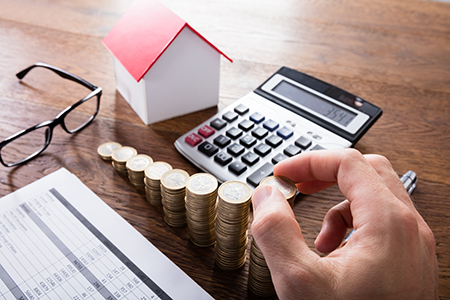 What is IRS Form 8849?
IRS Form 2290, the Heavy Highway Vehicle Use Tax Return allows you to claim refunds on your taxable vehicle while reporting taxes. If you are eligible, you will need to file Form 8849, Claim for Refund of Excise Taxes using the correct schedule. If you are in the trucking industry and e-file Form 2290 you will likely use Form 8849 Schedule 6.
For example, if you sell a heavy use vehicle after you have filed your 2290 tax form, you will need to file Form 8849 Schedule 6 to claim your credit. You would also use Form 8849 if your vehicle was destroyed, stolen, or you overpaid by mistake.
Form 8849 Schedule 1: Nontaxable Use of Fuels
Form 8849 Schedule 2: Sales by Registered Ultimate Vendors
Form 8849 Schedule 3: Certain Fuel Mixtures and the Alternative Fuel Credit
Form 8849 Schedule 5: Section 4081(e) Claims
Form 8849 Schedule 6 is used to claim 2290 refund claims not reportable on schedules 1, 2, 3, 5, and 8 including refunds of excise taxes reported on:
Form 11-C, Occupational Tax and Registration Return for Wagering
Form 720, Quarterly Federal Excise Tax Return
Form 730, Monthly Tax Return for Wagers
Form 2290, Heavy Highway Vehicle Use Tax Return
Read More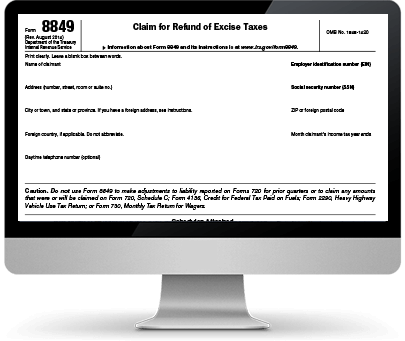 How to E-File Form 8849?
Create an account
Add Business Information
Choose the ending month of your tax year
Enter the Credit Vehicle Details
Transmit to IRS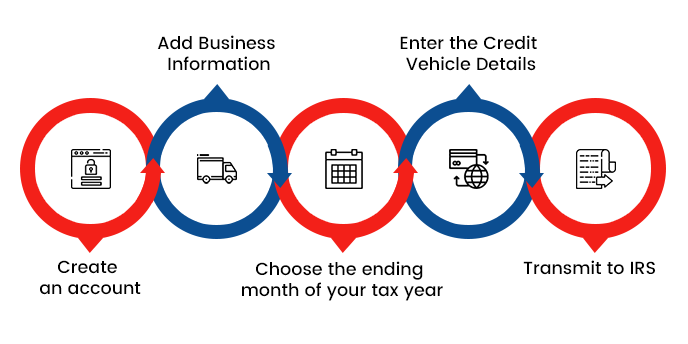 Why Should I E-File Form 8849?
In addition to getting your 2290 tax refund faster here are the other benefits of e-filing Form 8849:
Environmentally Friendly
E-filing Form 8849 electronically saves paper, envelopes, and stamps. If you are doing banking transaction online, paying your bills online, and shopping online, why not do your taxes online too? It saves the environment and you from the trip to the post office or the IRS field office.
Safe and Secure
Not only do we have the safest and most reliable IRS authorized e-file provider available, but you don't have to worry about your files being lost in the mail. When you e-file Form 8849 with Express8849 your information goes directly to the IRS, and no one else.
It's Fast and Easy
You can e-file your HVUT refund in minutes, without even leaving your house or office or truck. The IRS will accept your Form 8849 within minutes, and you will get an automatic text notification.
Get an IRS Refund
Once the IRS processes your Form 8849, you will be issued a tax return check. This process might take 4-6 week for you to receive your 2290 refund.
Tax Professionals
Our all-inclusive 2290 filing software supports CPA's and other tax professionals
Affordable Price
In addition to simplifying the e-filing process, we offer a quality e-filing service at an affordable price. Contact our US-based support team to discover our discounted rates for tax preparers.
Stay Organized
There's no need to register a new account for every client who needs to file IRS Forms 2290 & 8849. Tax professionals can manage multiple clients under one account. Our all-inclusive dashboard enables you to check the status of all your clients at a glance.
Simplified E-Filing
We will save your clients information for future IRS Form 2290 e-filings. Tax professionals can come back and resubmit forms, or file new HVUT taxes for clients.
Free Corrections
Our automatic internal audit can help tax professionals spot errors before transmitting. However, if a form is rejected, you can re-submit a correction at no additional charge.
Tax professionals get all these features and more when they use Express8849, all for a low price.
Quick Links
The following links provide information and technical guidance for the Form 8849.
IRS Forms and Instructions (PDF)

Partner With Express8849
For more information on our partnering program contact us at support@expresstrucktax.com or 704.234.6005
Express8849 Customer Testimonials
...Wow, I wasn't expecting anyone to actually answer the phone. I called three other guys and nobody answered. You picked up after the first ring. I wish your company could do ALL my taxes!
Gregg A,
Nevada
-->